Benefits of Tulsi
Tulsi is called the "ELIXIR OF LIFE" in Ayurveda (Traditional Indian Medicinal System). Do you know why? These "8 PROMISING HEALTH BENEFITS OF TULSI" will prove why it is reputed so? Really interesting! 10 Mind-Boggling Health Benefits of Turmeric
Brief About Tulsi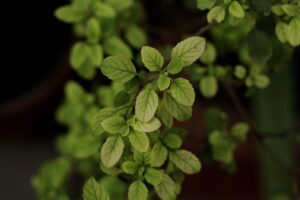 Tulsi or Holy Basil is revered as "THE MOTHER MEDICINE OF NATURE", "THE QUEEN OF HERBS", "ELIXIR OF LIFE" and "THE INCOMPARABLE ONE" in Ayurveda and Conventional Indian Medicine System because of its tremendous medicinal, curative and spiritual qualities.
Tulsi's scientific name is Ocimum sanctum/Ocimum tenuiflorum which is an indigenous herb to the Indian subcontinent and has been used for over 3,000 years in Ayurveda. It is reputed as a 'tonic for the mind, body and soul'.
Tulsi possesses various beneficial properties like antioxidants, hepatoprotective, cardioprotective, neuroprotective, anti-diarrheal, mosquito-repellent, antimicrobial , anti-inflammatory and numerous more.
Tulsi has 3 most renowned varieties which includes:
Rama or Sri Tulsi (Green-leaved Tulsi)
Krishna or Shyama Tulsi (Purple-leaved Tulsi)
Vana or Wild/Forest Tulsi
Out of these 3 'Sri Tulsi'  is the most prominent one but all of them are used extensively. Tulsi consists of various phytonutrients like eugenol, apigenin, carvacrol, ursolic acid, etc. It also has significant amounts of potassium, vitamin C, calcium and other macro and micronutrients. How to lose weight? The Perfect Guide
8 Promising Health Benefits of Tulsi
1. Controls Blood Sugar Levels
One of the amazing benefits of tulsi is that it helps to keep the blood sugar levels in control and studies indicate that it exerts an anti-diabetic effect.
A Randomized Controlled Clinical Trial (RCCT) reported that daily intake of 6 gm Tulsi leaves caps before meal in 40 male adult, type-2 diabetes mellitus patients for 6.5 weeks, remarkably reduced postprandial glucose and fasting blood glucose.
Another randomized, single-blind, placebo-controlled, cross-over study compared the daily consumption of 2.5 gm tulsi leaves powder taken in the morning before meal for 5 weeks, and spinach leaves powder at the same dosage.
The findings indicated a significant reduction in fasting blood glucose, post-prandial glucose and urine glucose in 40 type-2 diabetes mellitus patients, aged 41-65 years. 11 Incredible Health Benefits of Honey
2. Improves Lipid Profile
Tulsi consumption has been proven to significantly reduce cholesterol levels and improve the lipid profile.
A clinical trial investigated the effects of whole tulsi plant powder at a dosage of 3 gm twice a day for 12 weeks in 5 psychosomatic adults, aged 60-80 years. 
And the findings suggested that tulsi powder consumption massively improved the lipid profile.
Another randomized, parallel group, clinical trial tested the daily intake of 250 mg tulsi leaves caps before meal, twice a day for 8 weeks in 30 obese adults (17-30 age).
It enhanced the lipid profile (except Total Cholesterol) and TGs (Triglycerides). Moreover, it improved BMI (Body Mass Index) and insulin resistance.
3. Reduces Blood Pressure
Tulsi is a fantastic herb for people suffering from hypertension because studies have shown that its daily intake reduces blood pressure.
Daily intake of 15 tulsi leaves' fresh juice, twice a day for 4 weeks showed significant changes in the blood pressure in 50 hypotensive females, aged 18-30 years, an open label, clinical study reported.
A randomized, placebo-controlled study compared the daily intake of 30 ml fresh tulsi juice, before meals, twice a day, and green-colored water in the same dose and way, for 12 days.
The findings suggested that tulsi juice consumption lowered the blood pressure by 25%. Top 10 Evidence-Based Benefits of Coffee
4. Enhances Brain Functioning
Tulsi is an adaptogen and acts as an anxiolytic agent, which means it is a herb which helps relieve stress, anxiety and other mental health issues and improves cognition.
A randomized, double-blind, placebo controlled, clinical trial tested the daily intake of ethanolic tulsi leaves capsules at a dose of 300 mg before meals for 4 weeks, in 40 healthy adults.
It enormously improved the attention, cognitive flexibility and working memory in a matter of 15 days, as compared to the people who consumed cellulose capsules.
Daily intake of 3 gm whole tulsi plant powder, twice a day, for 12 weeks impressively lowered anxiety and biological age score. Top 5 Incredible Benefits of Ashwagandha
5. Boosts Immune System
Tulsi possesses immunomodulatory properties which strengthen the immune system and also limits the oxidative stress in the body due to its anti-inflammatory and antioxidant properties.
A randomized, double-blind, placebo-controlled, cross-over designed study examined the ethanol tulsi leaves on 22 healthy adults, aged 22-37 years for 4 weeks at a dose of 300 mg per day.
The findings indicated an immense increment in cytokine level, interferon-ϒ,  & interleukin-4, compared to the control group. These all help to regulate the immune system and produce antibodies. 11 Evidence-Based Benefits of Giloy
6. Prevents Cancer
Tulsi possesses anti-carcinogenic, chemoprotective and radioprotective properties because of which it helps to prevent numerous types of cancer including lung cancer, colorectal cancer, breast cancer and so on.
Few animal and cell culture studies have shown that the phytochemicals present in tulsi including eugenol, rosmarinic acid, myretenal, luteolin, carnosic acid and many more helps to fight cancer. However, research is still limited in this regard. Top 5 Health Benefits of Chia Seeds
7. Promotes Oral Health
Tulsi ensures healthy teeth and gums due to its antimicrobial, antifungal and antibacterial properties and helps to ensure proper oral health as well.
A triple blinded concurrent parallel trial observed a significant reduction in plaque and gingivitis scores in 4% tulsi dentifrice group as compared to placebo dentifrice group in 1 month.
The trial included 84 participants out of which 41 were males and 43 were females. 7 Health Benefits of Vitamin A (Evidence-Based) 
8. Fights Various Diseases
Tulsi has been used for ages in Ayurveda as a concoction with various herbs or single herb and it is still very prevalent in treating and preventing multiple disorders.
Tulsi has a significant usage and protective effect against many diseases including cough, fever, asthma, diarrhea, arthritis, malaria, eye diseases, otalgia, genitourinary disorders, skin diseases, poisonous bites and numerous more. How To Improve Digestion? The Perfect Guide 101
Takeaway
Tulsi is a nutraceutical and pharmaceutical plant which has been used for ages to strengthen the human body. The above listed "8 PROMISING HEALTH BENEFITS OF TULSI" reinforces the tulsi's significance in medicinal usage. 10 Scientifically-Proven Health Benefits of Amla